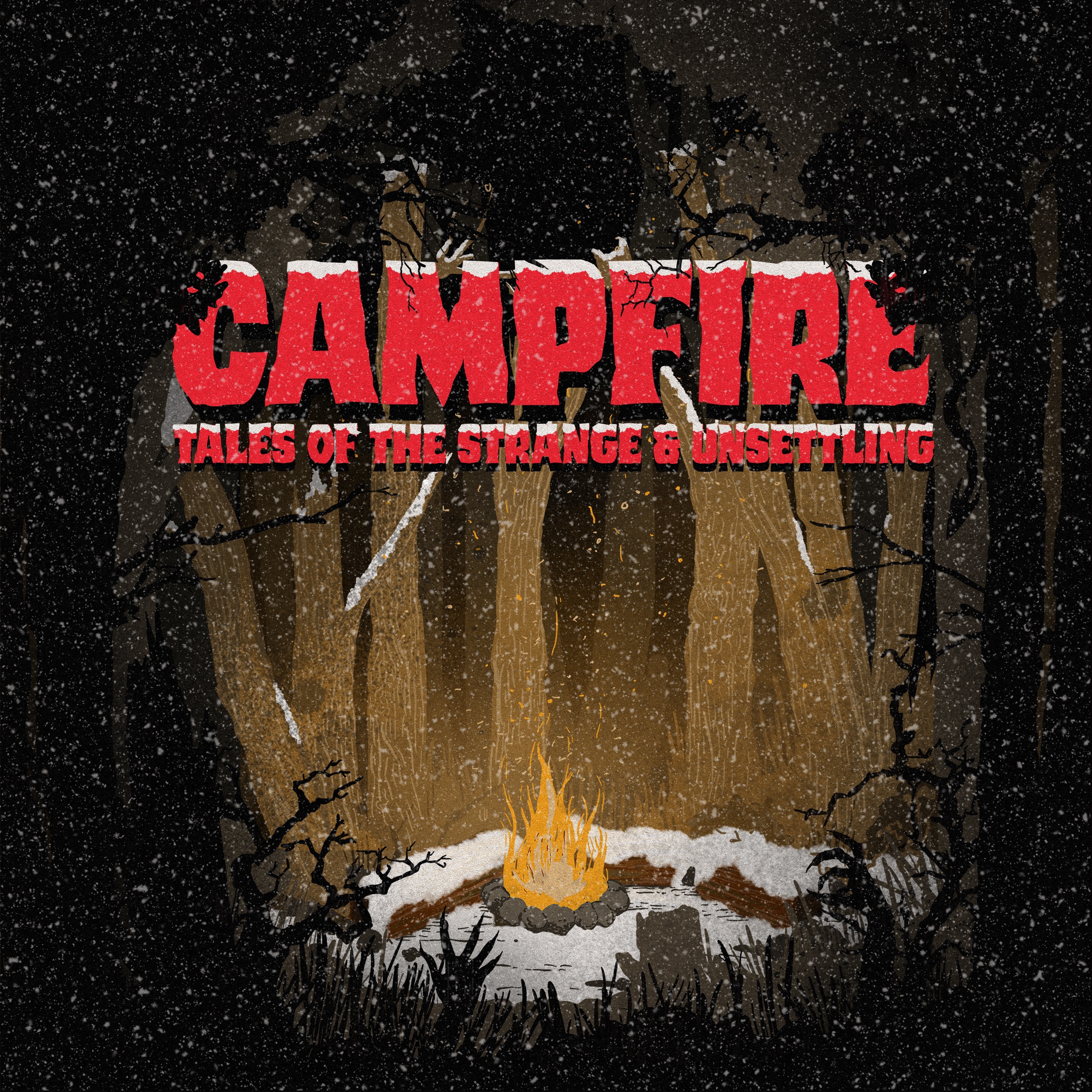 In this, we have for you a very important community project. Strange Semantics is an in-depth look at the language that we use to describe this incredible field that we find ourselves in. Terms like paranormal, supernatural, otherworldly, supranatural, supernormal, paraweird, and Fortean are examined through the input of 30 of the most fascinating people in the Fortean community. Podcasters, authors, philosophers, and artists from all over the world provide invaluable insight on a criminally overlooked aspect of Fortean studies. So, sit back and enjoy a trip across the spectrum of paranormal research!
Campfire: Tales of the Strange and Unsettling is created for adult audiences only. The content and discussion in this show will necessarily engage with various accounts that include violence, anxiety, fear, and occasional body horror. Much of it will be emotionally and intellectually challenging to engage with. We will flag especially graphic or intense content so as to never put you in an uninformed or unprepared position. We will do our best to make this a space where we can engage bravely, empathetically, and thoughtfully with difficult content every week.
This week's episode includes descriptions/sound related the following sensitive content:
NONE!
GUESTS
Aaron Deese
https://www.heystrangeness.com/
Abby Carroll
https://youtube.com/channel/UCmaFAIKSMp94UlpAh1uRq1A
Ainsley
https://instagram.com/sydneyspooks?igshid=YmMyMTA2M2Y=
Alan B. Smith
https://linktr.ee/CoffeeandUFOs
AP Strange
https://www.apstrange.com/?m=1
Belief Hole
https://beliefhole.com/discover
Chris Cogswell
https://www.themadscientistpodcast.com/
Chris Xydas
https://www.etsy.com/shop/CryptidCurio?load_webview=1&bid=Use_yHSMQK2yi0AB4Ceh0iZBLQyW
Cole Herrold
https://newworldexplorerssociety.blogspot.com/?m=1
Dasos Crowsong
https://www.tumblr.com/tropicaldruid
David Perkins
https://www.facebook.com/profile.php?id=100004520987095
Fred Andersson
https://linktr.ee/fredandersson
Greg Bishop
Heather Moser
https://linktr.ee/paganhistorian
Jeff Foran
https://linktr.ee/strangeology
Jack Hunter
https://jack-hunter.webstarts.com/
Jeremy Vaeni
Joshua Cutchin
Joshua Cutchin: Weird Words & Brass Beats
Karen Stollznow – MonsterTalk
https://www.patreon.com/karenstollznow
Karly Latham
https://linktr.ee/Thevillagetarotwitch
Lisa and Shane – Dark Notes Podcast
https://open.spotify.com/show/3F6aOqbts9ZYSZsz5QS7ed
Lon Strickler
https://www.phantomsandmonsters.com/
Luke Greensmith
Marc Storrs – Cryptonaut Podcast
https://linktr.ee/cryptonautpodcast
Matthew Schang
https://www.instagram.com/mothboyspodcast
Molly Briggs
http://weirdlikemeufopodcast.com/
Rick Belcher
https://linktr.ee/spookscreepspod
Stephanie Quick
https://instagram.com/dashing_eccentric?igshid=YmMyMTA2M2Y=
Todd Purse
https://linktr.ee/Createmagicstudios
Vuk – Tracing Owls
https://linktr.ee/darwinsdeviations
Check it out!
Mothmen 1966
https://store.steampowered.com/app/1755030/Mothmen_1966/
Bigfoot
Adverts!
Go subscribe to Paranormality Magazine!
Use promo code "CAMPFIRE" to receive a free Jonathan Dodd t-shirt!
https://paranormalitymag.com/product/monthly-print-subscription/?ref=13
Support Campfire on Patreon:
https://www.patreon.com/campfiretalesofthestrangeandunsettling
Satisfy All of Your Merch Needs:
https://www.teepublic.com/stores/campfire-tales-of-the-strange-and-unsettling?ref_id=25702
Join the conversation on social media at
www.campfirepodcastnetwork.com
Discord:
Instagram:
instagram.com/campfire.tales.podcast
GoodPods:
https://goodpods.app.link/T0qvGnXnplb
Twitter:
www.twitter.com/campfiretotsau
Facebook:
www.facebook.com/campfire.tales.podcast
Visit Our Linktree for Any and All Campfire Info:
https://linktr.ee/Campfirepodcast
Special Thanks:
Gregg Martin for music contributions! Go follow him on Instagram at Instagram.com/reverentmusic , on Bandcamp at https://reverentmusic.bandcamp.com/releases or on Spotify at https://open.spotify.com/album/6QVhQsYQeeBVOtxrelehTI?si=V5CAxS8sSXyVFn14G7j-GA
Elias Armao for graphic design! Go follow him on Instagram at instagram.com/doggedlinedesignsupply
Merch Designs by:
Jonathan Dodd! Show him some love at 
https://linktr.ee/jonathandodd
Easton Chandler Hawk! Support his work at https://linktr.ee/eastonhawkart
The Crescent Hare! Support her work at https://linktr.ee/thecrescenthare
Todd Purse at Create Magic Studios! Support his work at https://linktr.ee/Createmagicstudios